Karnataka
Regular price
Sale price
Rs. 85.00
Unit price
per
Sale
Sold out
• Nipaatu by Adukale is a very popular crispy rice crackers from the cuisines of Karnataka. These are absolutely delectable and tasty and is considered a favorite of most of the people in the Western Parts.
• These Nippatu are rice flour-based and made with hygiene ensuring freshness and only 100% quality ingredients.
• Enjoy this Nippattu by Adukale as a scrumptious crisp tea time snack
Taste Profile: Savoury

View full details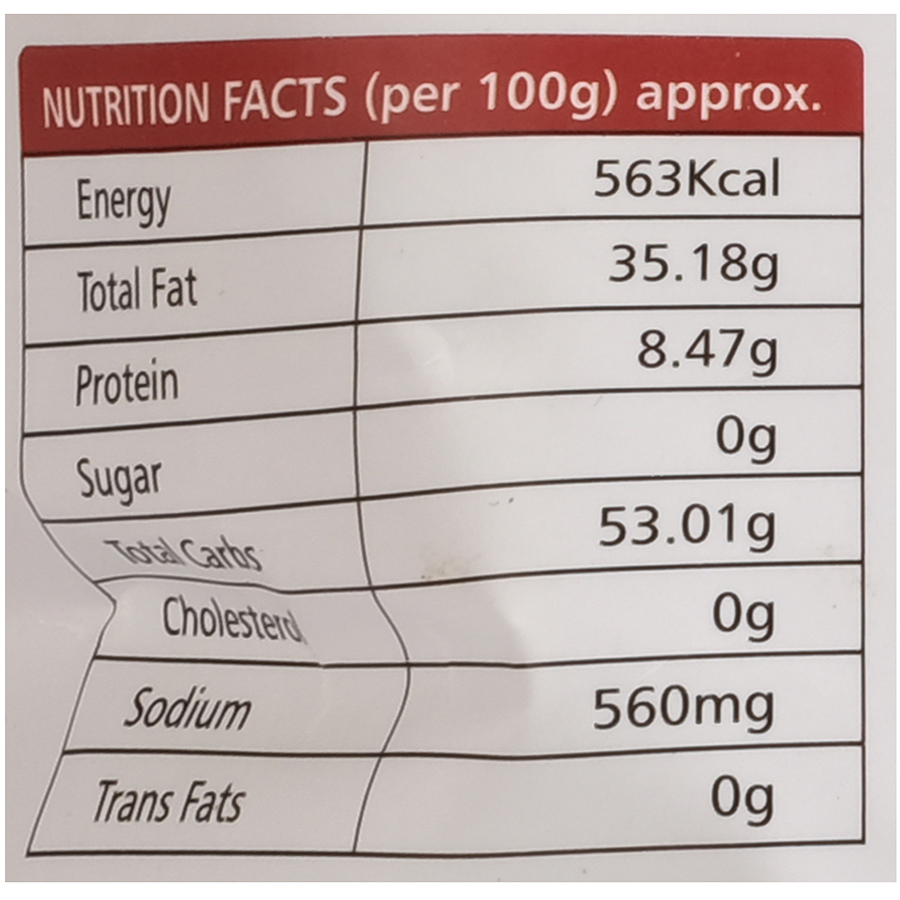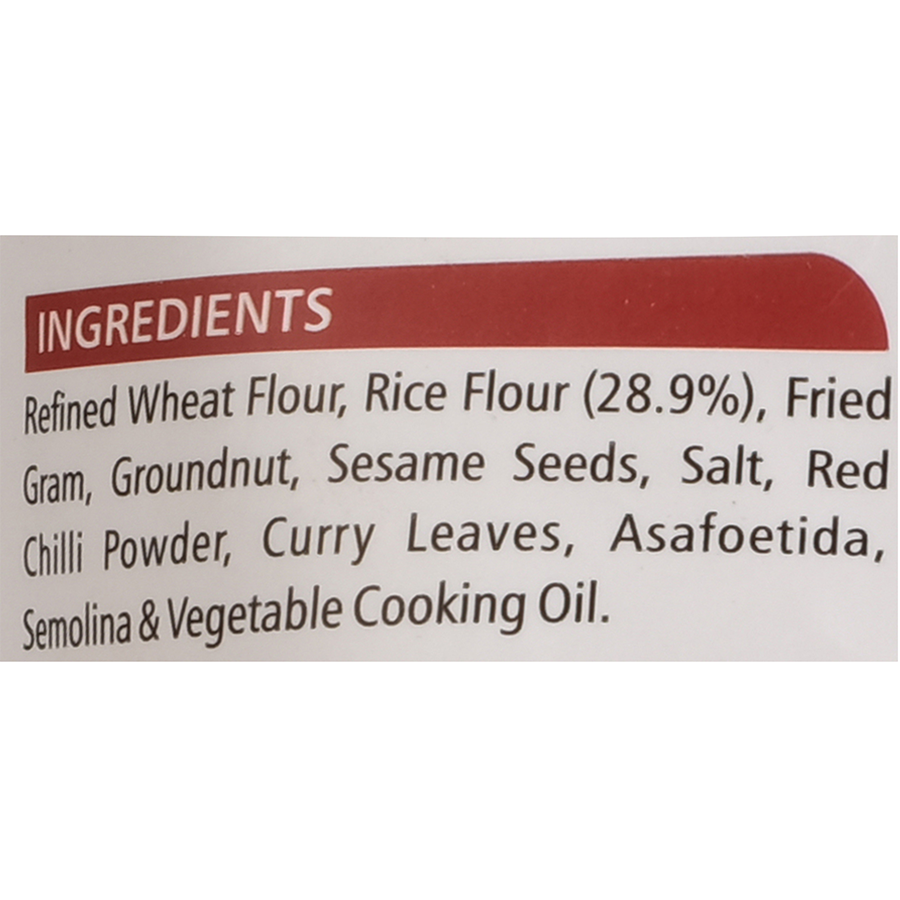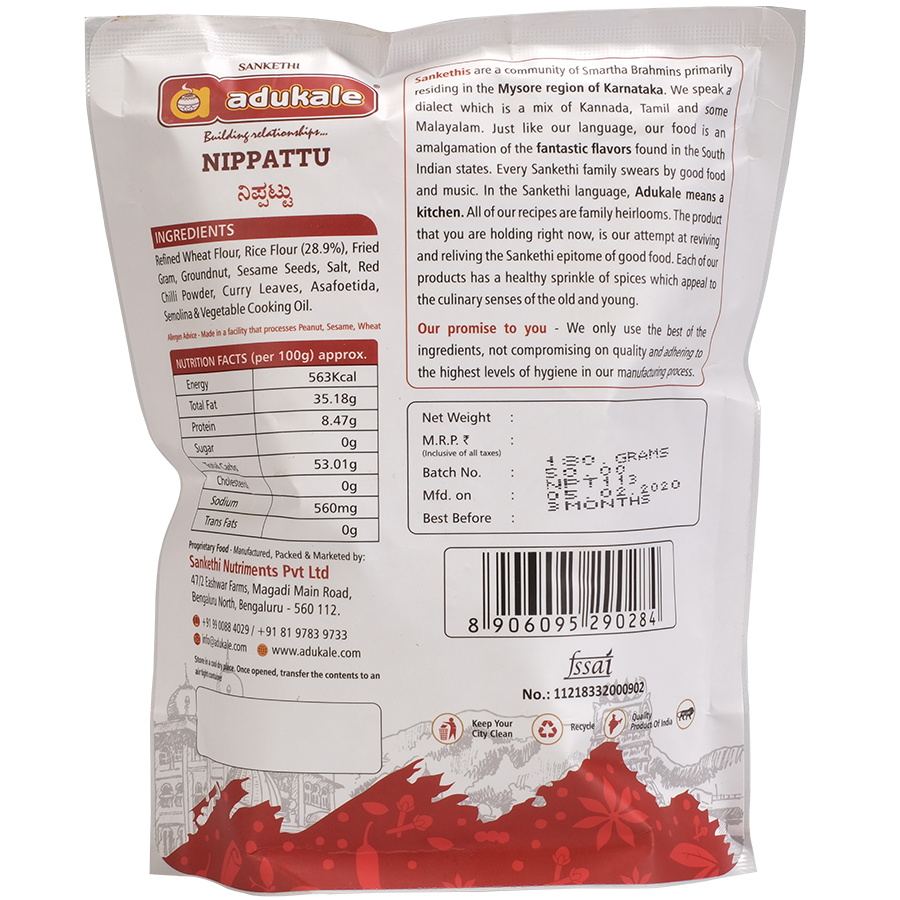 More about Nippattu by Adukale
What are the ingredients of Nippattu by Adukale

Refined Wheat flour, Rice flour (28.9%), Fried gram, Groundnut, Sesame seeds, Salt, Red Chilli powder, Curry leaves, Asafoetida, Semolina, and Vegetable cooking oil.
Where is Nippattu by Adukale from?

Nippattu by Adukale is from the state of Karnataka.
What is story of Nippattu by Adukale? Why is the brand so famous?

Sankethis are a community of Smartha Brahmins primarily residing in the Mysore region of Karnataka. Sankethi style of cooking is completely different and incorporates a blend of tastes from Kerala, Karnataka and Tamilnadu. In Sankethi, Adukale means Kitchen. Sankethi Nutriments Pvt Ltd is a 10-year-old enterprise and is endorsed by over 20 lakh customers worldwide! They aim to revive grandmother's traditional recipes, and take you into a world of nostalgia!
Palm Olein Oil not good
Adukale products are well-packaged and there are several traditional snacks to choose from. . However, it they are not authentic Sanketi products. Sanketis never used palm oil. Palm Olein is bad for your health and bad for the environment the way it is produced now.. 100gms of this oil contains 49g of saturated fat and it is believed to raise cholesterol. Please read more about these problems at the links below:
https://pubmed.ncbi.nlm.nih.gov/25995283/
https://www.wwf.org.uk/updates/8-things-know-about-palm-oil
Very good products & service
I ordered Laxmi Narayan chivda and Nippat.Both are fresh and tasty.We liked it very much.
Delicious
Authentic south indian flavour in every bite. We loved them!
Authentic Taste
Very tasty and authentic, the rustic taste could be felt, bought one packet and it was finished by me and my family in 15 Minutes craving us for more..will surely order again..pls have a pack of half kg too!!
Good product nice packaging
More about The State Plate
What does The State Plate do?

The State Plate delivers famous food products and brands from different states of India. You can buy snacks, spices, pickles & chutneys, staples, mouth fresheners from famous brands of India. You can get Maharashtra food, Gujarat food, West Bengal food, Karnataka food, Andhra Pradesh food, Madhya Pradesh food, Rajasthan food, Tamil Nadu food and Orissa food at your doorstep. We work directly with manufacturers to get you the authentic and delicious taste of India. The State Plate delivers within India and also delivers products like Nippattu by Adukale internationally.
Which famous brands can you buy on The State Plate online?

The State Plate has over 50 legendary brands to buy online from from 7 states of India. You can shop famous Maharashtra brands like Chitale Bandhu Bakarwadi and other snacks, Laxminarayan Chiwda, Hindustan Pista Badam Biscuits, Kalyan Bhel, Desai Bandhu Ambewale, Budhani Brothers; famous Bengal brands like Mukharochak snacks, Jharna Ghee, JK Spices, Sunrise Spices, Satyendra Chana Sattu, Deer Moghlai Attar, Druk Kasundi, Chakresh Supari; famous Gujarat brands like Jain Vijay, Jagdish Farshan, Diamond Peanuts, Jalaram Patra; famous Indore brands like Gangwal; famous South Indian brands like Grand Sweets & Savouries, Ambika Appalam, A1 Chips and more!

You can also buy aromatic Gobindobhog rice, Solapur Shenghdana Chutney, Kolkata style Chowmein, Thanda Meetha Paan, Paan Candy, Kokum Syrup at best prices at The State Plate online
How can you buy Karnataka's Nippattu by Adukale online?

You can buy Nippattu by Adukale online at The State Plate at best prices online. The State Plate offers all online payment methods and delivers to 26000+ pincodes in India.
Why shop from The State Plate?

The State Plate brings the flavours of India on your plate. TSP offers the most delicious and authentic food products from different states of India. We have a wide collection of products and brands for you to choose from. Shopping with The State Plate has many benefits such as a great website and app to order from, free delivery available above certain amount, a very great customer support team and delivery to 26000+ pincodes in India. The Slate Plate also delivers to all international addresses. All our products are checked before they are shipped for quality and packaging. Shop now and taste the flavours of India on your plate.