West Bengal
Regular price
Sale price
Rs. 42.00
Unit price
per
Sale
Sold out
• Dal Tadka is one of the most popular and a common staple dish of North India which is a boiled, mashed form of lentils spiced up with various fried aromatics such as onions, ginger and garlic. Now you can give your Dal Tadka the original authentic and traditional taste at the comfort of your home by just adding a dash of Dal Tadka Masala from Sunrise.
• This Tadka Masala from Sunrise is carefully blended and spiced to give you the earthly aroma and flavour in every bite.
• The pack of the Tarka Masala is carefully processed and packed to maintain the freshness for longer.

Storage Information: Store in cool, dry & hygienic place
View full details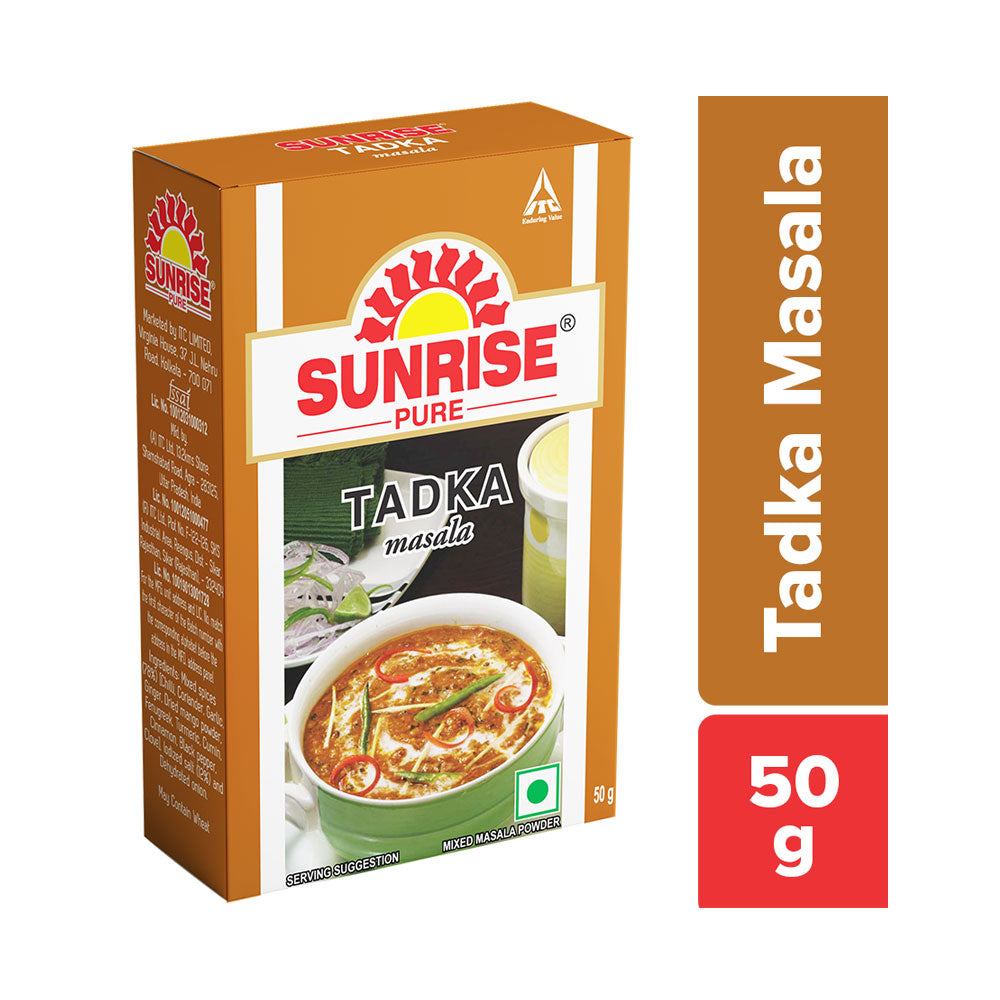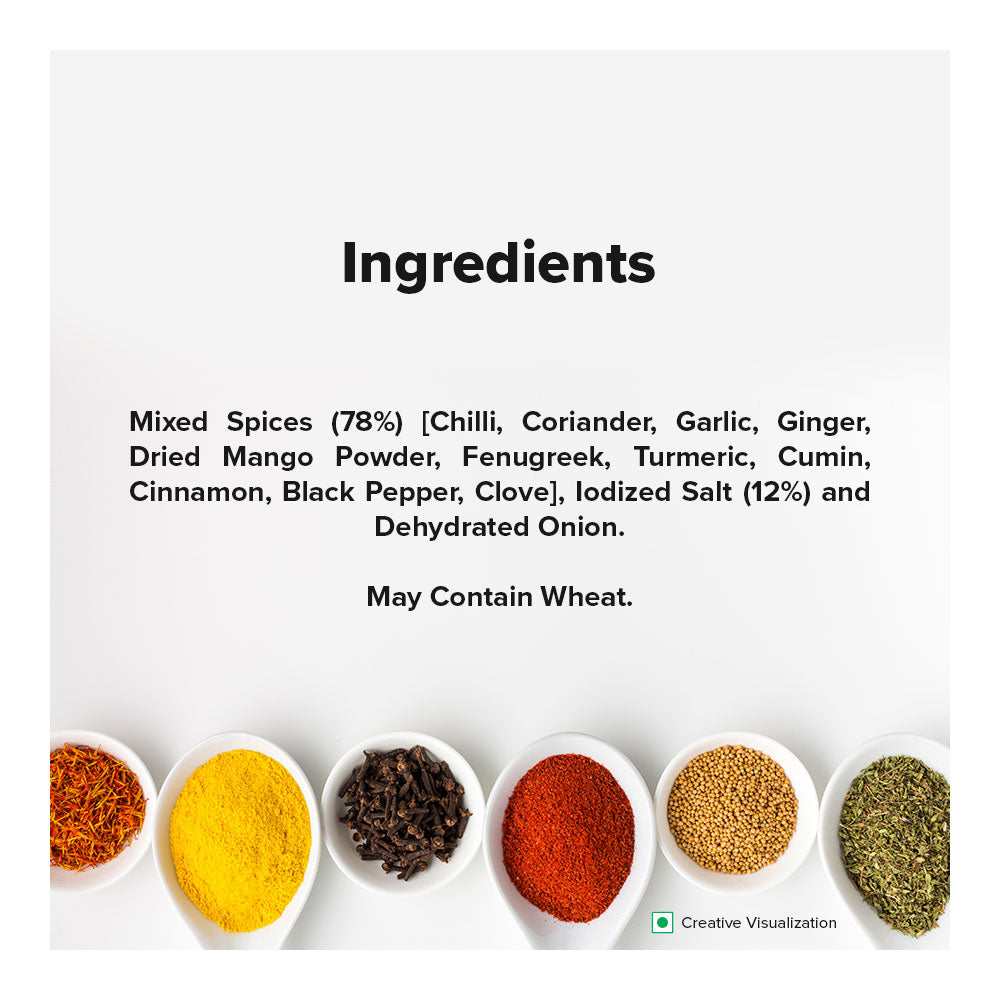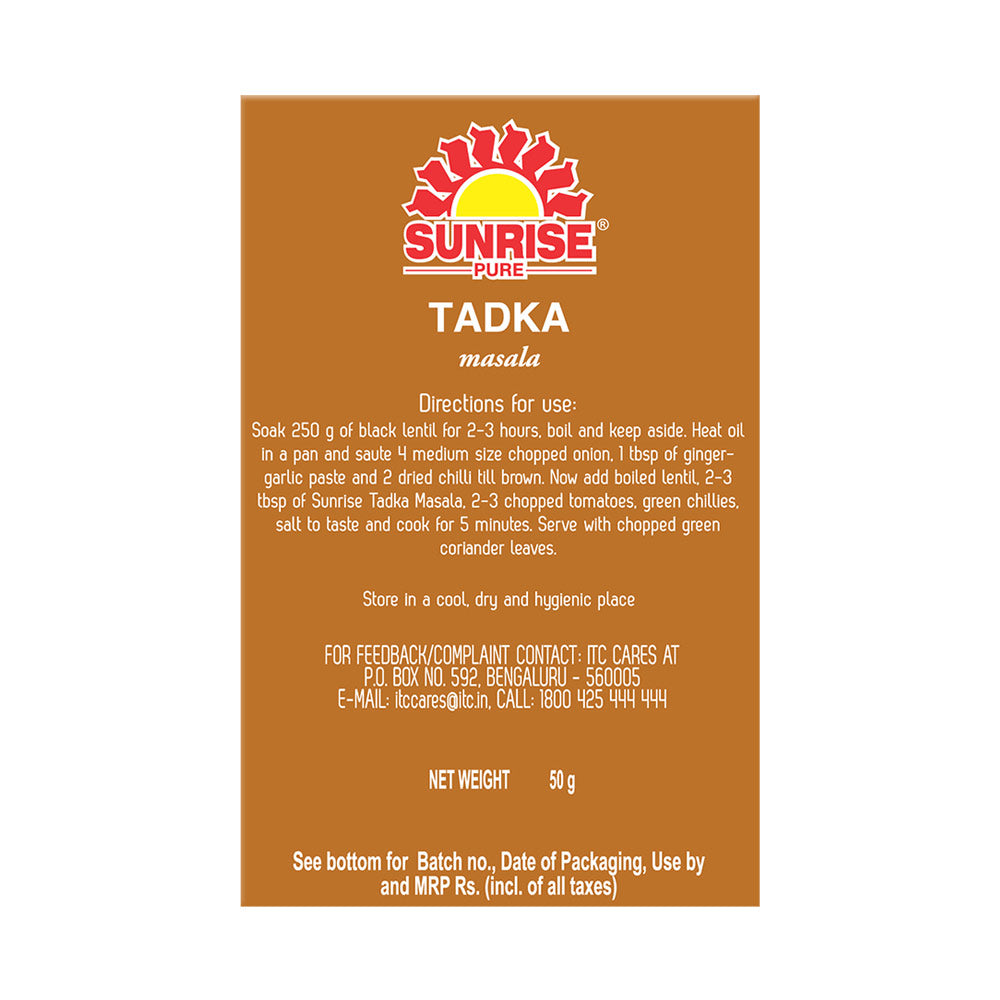 More about Sunrise Tadka Masala
What are the ingredients of Sunrise Tadka Masala

MIxed Spices, Chilli, Coriander, Garlic, Dried Mango Powder, Fenugreek, Tumeric, Cumin, Cinnomom, Black pepper, Clove, Iodized Salt, and Dehydrated Onion.
Where is Sunrise Tadka Masala from?

Sunrise Tadka Masala is from the state of West Bengal.
What is story of Sunrise Tadka Masala? Why is the brand so famous?

Since: 1902
Location: West Bengal

Sunrise was started over a century ago, in 1902, by Pandit Ishwari Prasad Sharma. Today, SUNRISE is not only a leading brand in the packaged spices category in India , Bangladesh and Nepal. For Sunrise , Quality is God and of utmost importance. Small, honest beginnings. Steady, sustained growth. A circle of ever-expanding, committed stakeholders and ever-growing loyal customer base, making them one of the most trusted brands across demographics in the country.
Trusted website
Made payesh with gur batasha.. It was very nice.. Thank you! A1 jackfruit chips from tamil nadu was also nice
More about The State Plate
What does The State Plate do?

The State Plate delivers famous food products and brands from different states of India. You can buy snacks, spices, pickles & chutneys, staples, mouth fresheners from famous brands of India. You can get Maharashtra food, Gujarat food, West Bengal food, Karnataka food, Andhra Pradesh food, Madhya Pradesh food, Rajasthan food, Tamil Nadu food and Orissa food at your doorstep. We work directly with manufacturers to get you the authentic and delicious taste of India. The State Plate delivers within India and also delivers products like Sunrise Tadka Masala internationally.
Which famous brands can you buy on The State Plate online?

The State Plate has over 50 legendary brands to buy online from from 7 states of India. You can shop famous Maharashtra brands like Chitale Bandhu Bakarwadi and other snacks, Laxminarayan Chiwda, Hindustan Pista Badam Biscuits, Kalyan Bhel, Desai Bandhu Ambewale, Budhani Brothers; famous Bengal brands like Mukharochak snacks, Jharna Ghee, JK Spices, Sunrise Spices, Satyendra Chana Sattu, Deer Moghlai Attar, Druk Kasundi, Chakresh Supari; famous Gujarat brands like Jain Vijay, Jagdish Farshan, Diamond Peanuts, Jalaram Patra; famous Indore brands like Gangwal; famous South Indian brands like Grand Sweets & Savouries, Ambika Appalam, A1 Chips and more!

You can also buy aromatic Gobindobhog rice, Solapur Shenghdana Chutney, Kolkata style Chowmein, Thanda Meetha Paan, Paan Candy, Kokum Syrup at best prices at The State Plate online
How can you buy West Bengal's Sunrise Tadka Masala online?

You can buy Sunrise Tadka Masala online at The State Plate at best prices online. The State Plate offers all online payment methods and delivers to 26000+ pincodes in India.
Why shop from The State Plate?

The State Plate brings the flavours of India on your plate. TSP offers the most delicious and authentic food products from different states of India. We have a wide collection of products and brands for you to choose from. Shopping with The State Plate has many benefits such as a great website and app to order from, free delivery available above certain amount, a very great customer support team and delivery to 26000+ pincodes in India. The Slate Plate also delivers to all international addresses. All our products are checked before they are shipped for quality and packaging. Shop now and taste the flavours of India on your plate.