Madhya Pradesh
Regular price
Rs. 140.00
Sale price
Rs. 115.00
Unit price
per
Sale
Sold out
An Indori often swears by Sev, and it's not without reason! This crunchy and flavourful namkeen is one of the reasons Indore is famously known as the 'City of Foodies'. This is why, we have brought you the famous Ratlami Sev, all the way from Indore, from one of the most iconic namkeen makers in the city!


Sev is crispy, fine, bhujiya-like strands made of gram flour and other Indian spices that can serve as your favorite crunchy, spicy, and savory go-to snack. This sev is even healthy as it has zero trans fats.


Its popularly used as a side dish, a garnish, and an ingredient. Be it the local, favorite breakfast of poha; curries, or vada pav - it accompanies all. Even food that does not generally require sev, is served with a handful on the side.


Our vendor's secret recipe originated from his grandfather from Ratlam almost 70 years ago and is still the local favorite!
Allergen Info: Contains Groundnut
View full details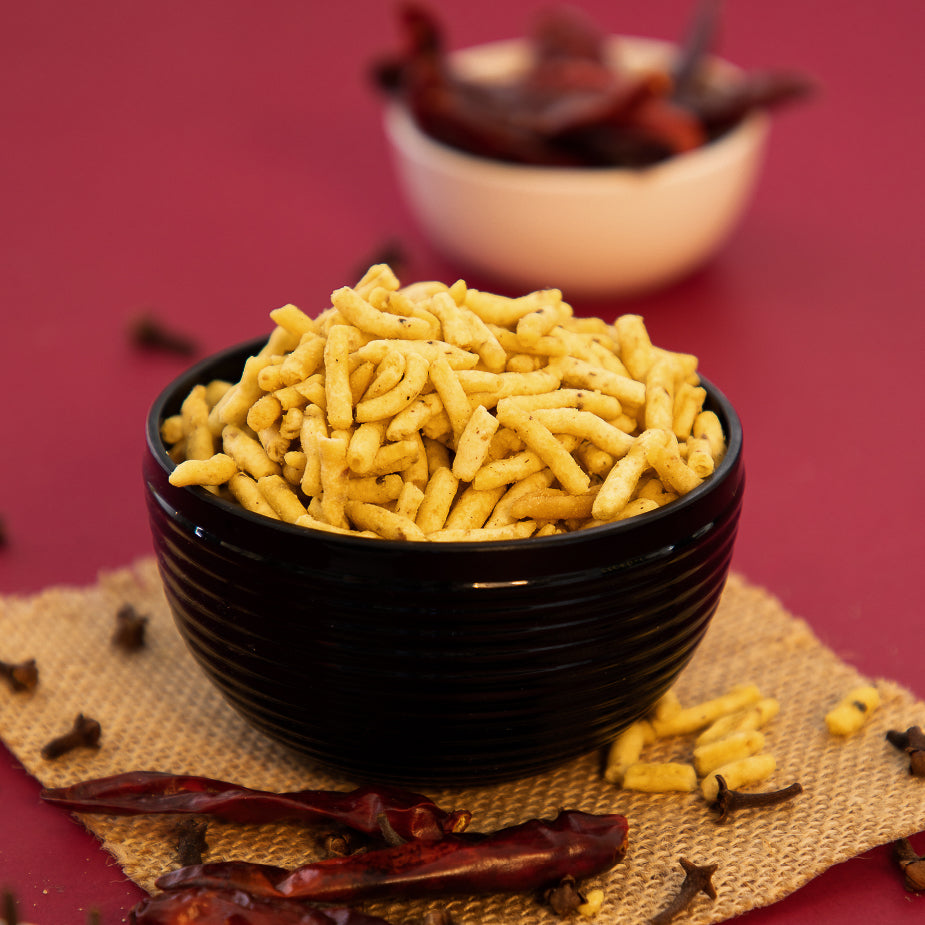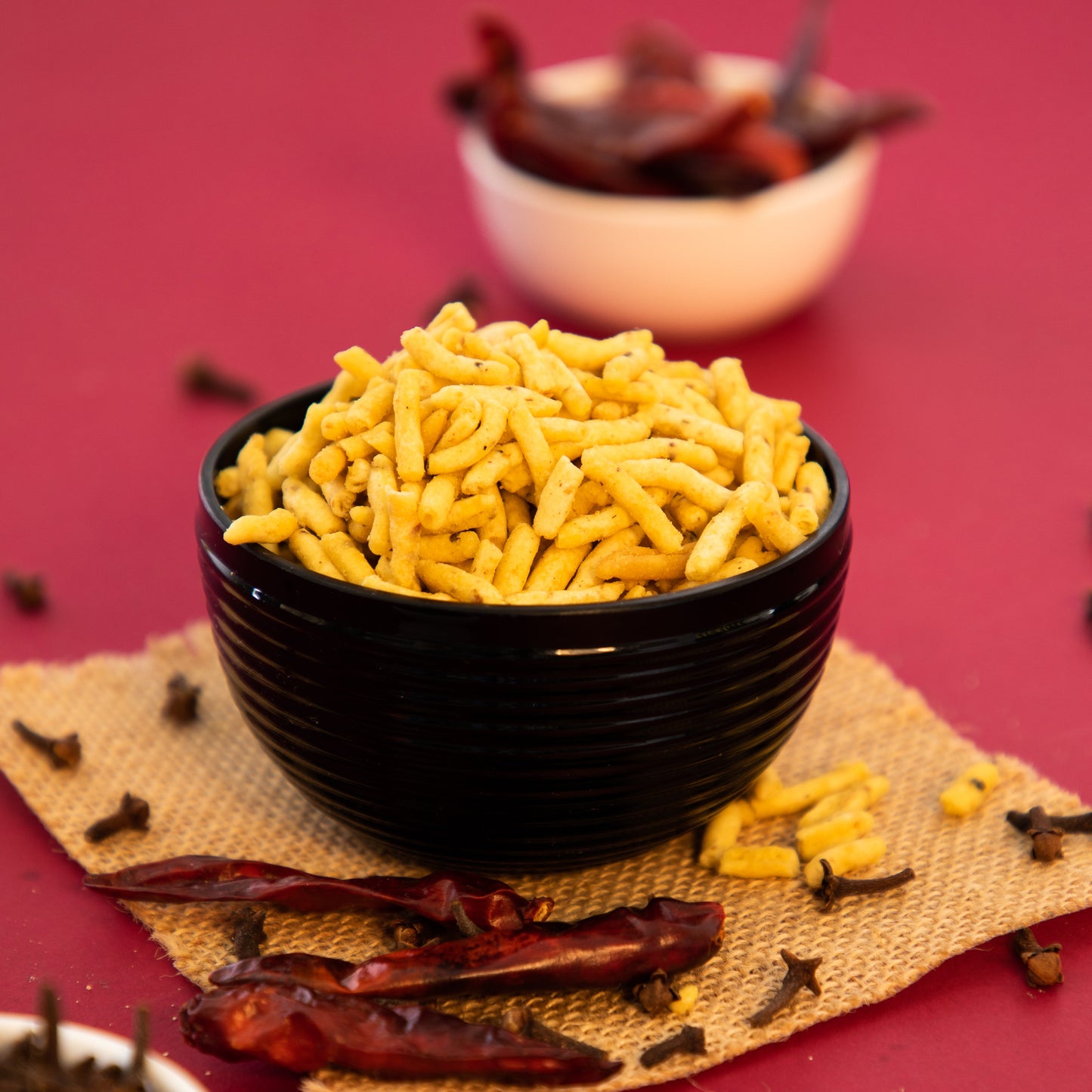 More about Ratlami Sev
What are the ingredients of Ratlami Sev

Gram Flour, Peanut oil, Water, Red Chilli Powder, Clove, Salt, Hing, Spices and Condiments Nutritional Information [per 100g (approx)] Energy (Kcal) 626.65 Fat(g) 49.17 Protein (g) 11.05 Carbohydrates (g) 34.98 Sugar(g) <1.0 Crude Fibre(g) 0.75 Saturated Fat (g) 8.65 Monounsaturated Fat (g) 24.05 Polyunsaturated Fat (g) 15.70 Trans Fat 0.0 Cholesterol nil
Where is Ratlami Sev from?

Ratlami Sev is from the state of Madhya Pradesh.
What is story of Ratlami Sev? Why is the brand so famous?

The State Plate sources products from the best manufacturers across the country. We evaluate 50+ authentic manufacturers for each product and select the best product in terms of taste, quality and authenticity, tested by our community of customers themselves! All products are sourced from their place of origin.

We source Snacks, Sweets, Staples, Groceries from different parts of the country, including West Bengal, Maharashtra, Gujarat, Tamil Nadu, Karnataka and more. This is your one stop destination to fulfil your hometown cravings.
Excellent
Chitale bakarwadi is one of the favourite items since childhood. Having left Pune, missed eating fresh Bakarwadi in Bangalore. Happy to source fresh products from The State Plate. Mixed veg pickle, lemon pickles and many other delicacies of Maharashtra, Madhya Pradesh are regular items we procure from TSP. Thanks to them for establishing this service. Hope it remains competitive for a long time and gets more people like me as their happy customers. Good luck TSP team!
Very good products & service
I loved the khakras. They were too yum. And my next favourite is ratlami Sev.
Highly recommend
We ordered the Jalaram Bardoli's Patra, Ratlami Sev and Jainvijay dry kachori which were absolutely authentic in taste and it was so easy to order the delicacies from different states from one single source.
Tested and found quite interesting
The test was different and unique ,
Excellent taste
It was fresh and authentic in taste...too good
More about The State Plate
What does The State Plate do?

The State Plate delivers famous food products and brands from different states of India. You can buy snacks, spices, pickles & chutneys, staples, mouth fresheners from famous brands of India. You can get Maharashtra food, Gujarat food, West Bengal food, Karnataka food, Andhra Pradesh food, Madhya Pradesh food, Rajasthan food, Tamil Nadu food and Orissa food at your doorstep. We work directly with manufacturers to get you the authentic and delicious taste of India. The State Plate delivers within India and also delivers products like Ratlami Sev internationally.
Which famous brands can you buy on The State Plate online?

The State Plate has over 50 legendary brands to buy online from from 7 states of India. You can shop famous Maharashtra brands like Chitale Bandhu Bakarwadi and other snacks, Laxminarayan Chiwda, Hindustan Pista Badam Biscuits, Kalyan Bhel, Desai Bandhu Ambewale, Budhani Brothers; famous Bengal brands like Mukharochak snacks, Jharna Ghee, JK Spices, Sunrise Spices, Satyendra Chana Sattu, Deer Moghlai Attar, Druk Kasundi, Chakresh Supari; famous Gujarat brands like Jain Vijay, Jagdish Farshan, Diamond Peanuts, Jalaram Patra; famous Indore brands like Gangwal; famous South Indian brands like Grand Sweets & Savouries, Ambika Appalam, A1 Chips and more!

You can also buy aromatic Gobindobhog rice, Solapur Shenghdana Chutney, Kolkata style Chowmein, Thanda Meetha Paan, Paan Candy, Kokum Syrup at best prices at The State Plate online
How can you buy Madhya Pradesh's Ratlami Sev online?

You can buy Ratlami Sev online at The State Plate at best prices online. The State Plate offers all online payment methods and delivers to 26000+ pincodes in India.
Why shop from The State Plate?

The State Plate brings the flavours of India on your plate. TSP offers the most delicious and authentic food products from different states of India. We have a wide collection of products and brands for you to choose from. Shopping with The State Plate has many benefits such as a great website and app to order from, free delivery available above certain amount, a very great customer support team and delivery to 26000+ pincodes in India. The Slate Plate also delivers to all international addresses. All our products are checked before they are shipped for quality and packaging. Shop now and taste the flavours of India on your plate.