Maharashtra
Regular price
Sale price
Rs. 115.00
Unit price
per
Sale
Sold out
• Thalipeeth is a popular savoury multi-grain flatbread dish in Western India, particularly Maharashtra. The flour for thalipeeth, called bhajani, is a multigrain flour prepared from roasted grains, legumes and spices.
• You can begin by Adding Katdare Thalipeeth Bhajani flour with salt and water. Cook on both sides on low or medium flame until golden spots appear. Your mouth-watering Thalipeeth is ready to serve hot!
• Serve it with some pickle and curd to enhance the taste. This highly nutritious and filling Bhajani Thalipeeth typically classified as a breakfast recipe can also be enjoyed as a snack or a meal.

View full details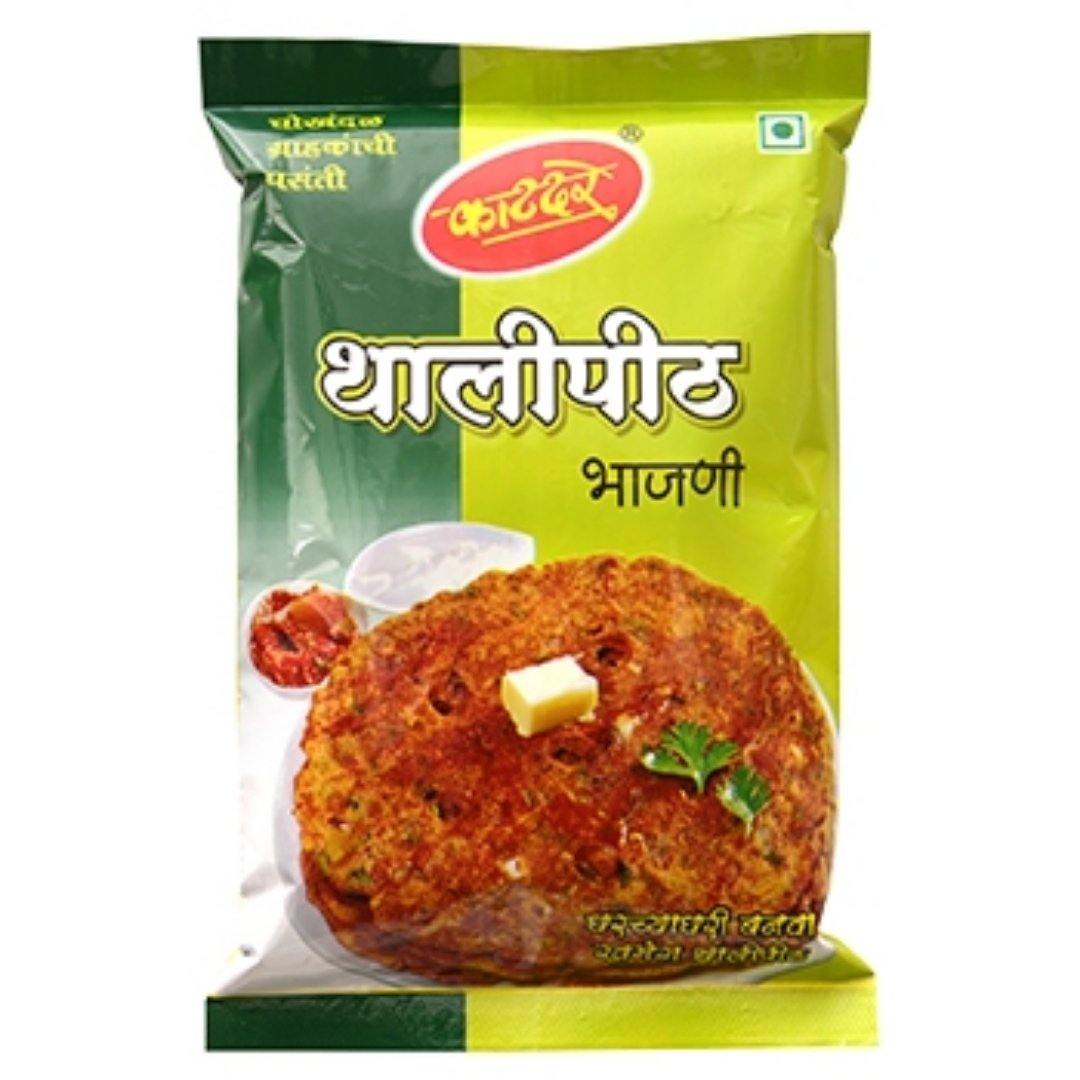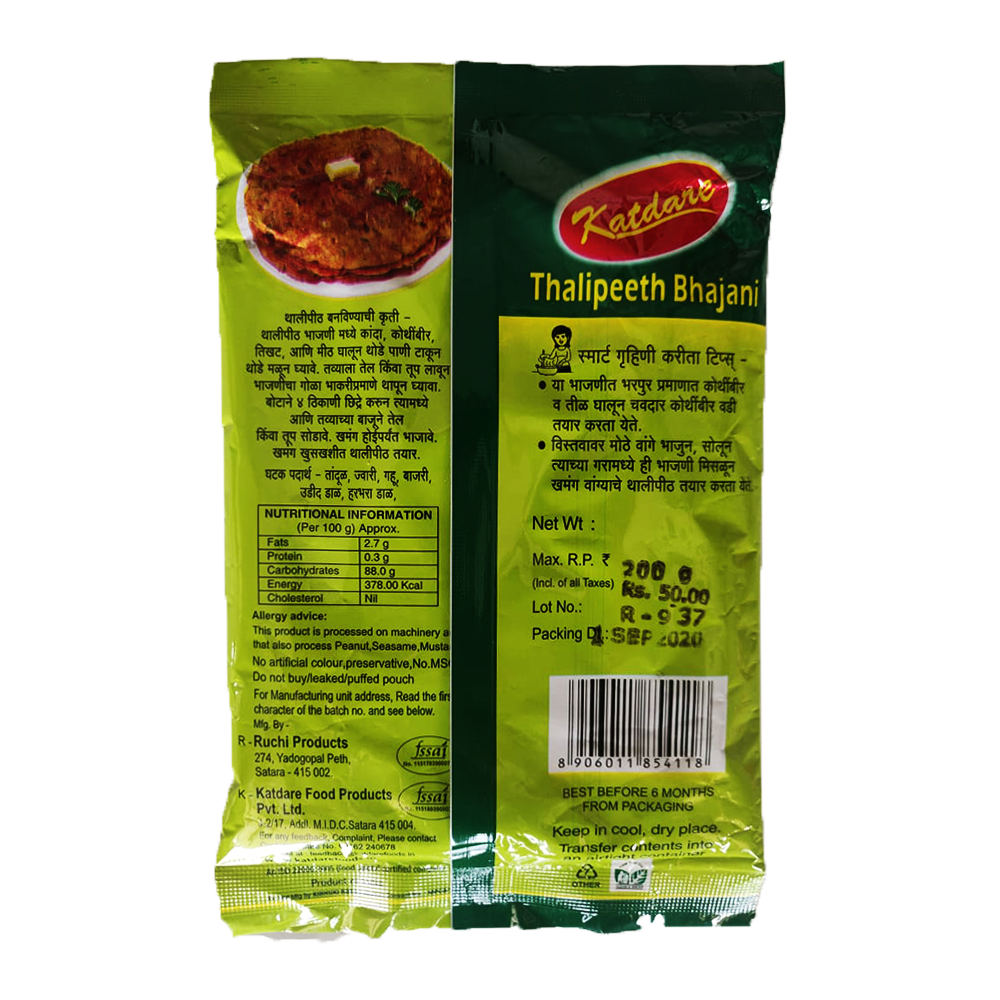 More about Katdare Thalipeeth Bhajani
What are the ingredients of Katdare Thalipeeth Bhajani

Rice, Sorghum, Wheat Millet, Black gram, Bengal gram
Where is Katdare Thalipeeth Bhajani from?

Katdare Thalipeeth Bhajani is from the state of Maharashtra.
What is story of Katdare Thalipeeth Bhajani? Why is the brand so famous?

Since: 1958
Location: Maharashtra

Katdare Masale was started in 1958 by the late Shri Balkrishna Katdare and his wife. It was founded on the principles of morality and authenticity. Whilst focusing on quality and consistency they also believe in providing diversified products like spices, pickles, chutneys and flours. Katdare is the ultimate tastemaker in Maharashtra. At Katdare, they believe that natural goodness is the way to go for a healthy life and they plan to take this authentic taste of Maharashtrian recipes across India and the world.
कुछ कह नहीं सकता
पैकेट पर हिंदी में इस्तेमाल करने की विधि नहीं लिखी हुई है मराठी मुझे आती नहीं है इसलिए अभी तो रखा हुआ है
Thaleepith bhajani ❤
It was a nice thaleepith byajani👍👍
Very good products & service
I'm happy with all the products tht i hv ordered frm thestateplate
Trusted website
Misal masala,laxminaryan chiwda,thalipeeth bhajani ...all r great in taste
All good
Taste,packaging, all was very good and properly received.
More about The State Plate
What does The State Plate do?

The State Plate delivers famous food products and brands from different states of India. You can buy snacks, spices, pickles & chutneys, staples, mouth fresheners from famous brands of India. You can get Maharashtra food, Gujarat food, West Bengal food, Karnataka food, Andhra Pradesh food, Madhya Pradesh food, Rajasthan food, Tamil Nadu food and Orissa food at your doorstep. We work directly with manufacturers to get you the authentic and delicious taste of India. The State Plate delivers within India and also delivers products like Katdare Thalipeeth Bhajani internationally.
Which famous brands can you buy on The State Plate online?

The State Plate has over 50 legendary brands to buy online from from 7 states of India. You can shop famous Maharashtra brands like Chitale Bandhu Bakarwadi and other snacks, Laxminarayan Chiwda, Hindustan Pista Badam Biscuits, Kalyan Bhel, Desai Bandhu Ambewale, Budhani Brothers; famous Bengal brands like Mukharochak snacks, Jharna Ghee, JK Spices, Sunrise Spices, Satyendra Chana Sattu, Deer Moghlai Attar, Druk Kasundi, Chakresh Supari; famous Gujarat brands like Jain Vijay, Jagdish Farshan, Diamond Peanuts, Jalaram Patra; famous Indore brands like Gangwal; famous South Indian brands like Grand Sweets & Savouries, Ambika Appalam, A1 Chips and more!

You can also buy aromatic Gobindobhog rice, Solapur Shenghdana Chutney, Kolkata style Chowmein, Thanda Meetha Paan, Paan Candy, Kokum Syrup at best prices at The State Plate online
How can you buy Maharashtra's Katdare Thalipeeth Bhajani online?

You can buy Katdare Thalipeeth Bhajani online at The State Plate at best prices online. The State Plate offers all online payment methods and delivers to 26000+ pincodes in India.
Why shop from The State Plate?

The State Plate brings the flavours of India on your plate. TSP offers the most delicious and authentic food products from different states of India. We have a wide collection of products and brands for you to choose from. Shopping with The State Plate has many benefits such as a great website and app to order from, free delivery available above certain amount, a very great customer support team and delivery to 26000+ pincodes in India. The Slate Plate also delivers to all international addresses. All our products are checked before they are shipped for quality and packaging. Shop now and taste the flavours of India on your plate.