Maharashtra
Regular price
Sale price
Rs. 90.00
Unit price
per
Sale
Sold out
• Kalyan Dry (Sukhi) Bhel Family is a famous Maharashtrian snack made out of puffed rice and a fusion of different spices.
• This any time ready to eat chatpata Bhel mix can also be made with a twist by adding some fresh veggies like tomato, onion along with some chutney for a mouth-watering indulge.
• Enjoy this delectable snack as it or add in various chaats for a lip-smacking crunchy flavor.

Taste Profile: Savoury

View full details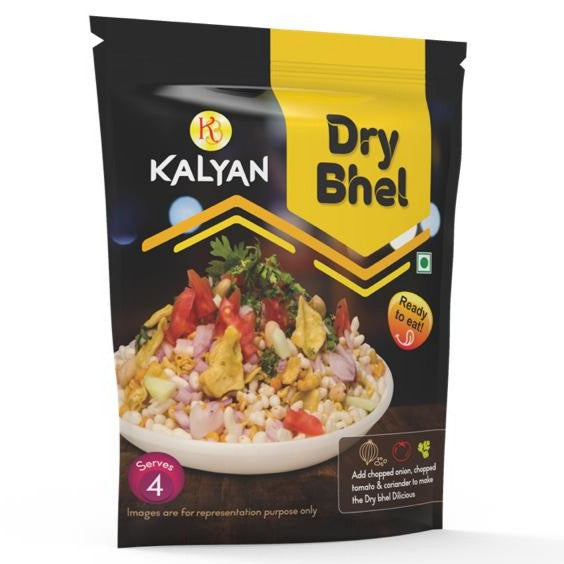 More about Kalyan Dry (Sukhi) Bhel
What are the ingredients of Kalyan Dry (Sukhi) Bhel

Rice Flakes, Gram Flour, Edible Vegetable Oil, Red Chilli Powder, Papad Khar, Iodised Salt
Where is Kalyan Dry (Sukhi) Bhel from?

Kalyan Dry (Sukhi) Bhel is from the state of Maharashtra.
What is story of Kalyan Dry (Sukhi) Bhel? Why is the brand so famous?

Since: 1990s
Located: Pune, Maharashtra

Kalyan Bhel House is considered to be one of the oldest chaat houses in Pune. The chaats and snacks are made out of the best quality ingredients and by skilled cooks.
The founder Mr Ramesh bhau commenced this esteemed snack house as a street vendor and as they say, fortune favours the brave, Mr Ramesh bhau in a short span of time expanded this chaat and snack house business from a street vendor to acquiring 7-8 snack places in and around Pune and many more coming up soon!
Excellent bhel
I would recommend this Kalyan dry Bhel to everyone. The farsan given in the packet is excellent. I add green, red and meethi chutney and the bhelpuri is done. Living in Hyderabad, I am enjoying Kalyan's bhel.
Very good products & service
Kalyan Bhel ,Jk masala snacks items like chitale bandhu shakarpara,and JK masala's are all good.⭐⭐⭐⭐⭐
All good
Packaging and freshness of products
All good
Sukhi Kalyan bhel is all I have ever ordered
I find it crisp and yummy
More about The State Plate
What does The State Plate do?

The State Plate delivers famous food products and brands from different states of India. You can buy snacks, spices, pickles & chutneys, staples, mouth fresheners from famous brands of India. You can get Maharashtra food, Gujarat food, West Bengal food, Karnataka food, Andhra Pradesh food, Madhya Pradesh food, Rajasthan food, Tamil Nadu food and Orissa food at your doorstep. We work directly with manufacturers to get you the authentic and delicious taste of India. The State Plate delivers within India and also delivers products like Kalyan Dry (Sukhi) Bhel internationally.
Which famous brands can you buy on The State Plate online?

The State Plate has over 50 legendary brands to buy online from from 7 states of India. You can shop famous Maharashtra brands like Chitale Bandhu Bakarwadi and other snacks, Laxminarayan Chiwda, Hindustan Pista Badam Biscuits, Kalyan Bhel, Desai Bandhu Ambewale, Budhani Brothers; famous Bengal brands like Mukharochak snacks, Jharna Ghee, JK Spices, Sunrise Spices, Satyendra Chana Sattu, Deer Moghlai Attar, Druk Kasundi, Chakresh Supari; famous Gujarat brands like Jain Vijay, Jagdish Farshan, Diamond Peanuts, Jalaram Patra; famous Indore brands like Gangwal; famous South Indian brands like Grand Sweets & Savouries, Ambika Appalam, A1 Chips and more!

You can also buy aromatic Gobindobhog rice, Solapur Shenghdana Chutney, Kolkata style Chowmein, Thanda Meetha Paan, Paan Candy, Kokum Syrup at best prices at The State Plate online
How can you buy Maharashtra's Kalyan Dry (Sukhi) Bhel online?

You can buy Kalyan Dry (Sukhi) Bhel online at The State Plate at best prices online. The State Plate offers all online payment methods and delivers to 26000+ pincodes in India.
Why shop from The State Plate?

The State Plate brings the flavours of India on your plate. TSP offers the most delicious and authentic food products from different states of India. We have a wide collection of products and brands for you to choose from. Shopping with The State Plate has many benefits such as a great website and app to order from, free delivery available above certain amount, a very great customer support team and delivery to 26000+ pincodes in India. The Slate Plate also delivers to all international addresses. All our products are checked before they are shipped for quality and packaging. Shop now and taste the flavours of India on your plate.