Maharashtra
Regular price
Sale price
Rs. 155.00
Unit price
per
Sale
Sold out
Upset that summer is over and you can't enjoy your fresh mangoes anymore? With this Ratnagiri Mango Pulp, not anymore! Enjoy the delicious Hapoos mangoes throughout the year.
Can be used in cakes, milkshake, mango halwa, mango rice, or any other recipe to add that mango flavour to your dish!

This box contains 96% pure Alphonso mango pulp and less than 5% added sugar for optimum sweetness. This delicious and pure Mango Pulp is made from the best alphonso mangoes from Ratnagiri.

Ratnagiri alphonso is also known as the king of mangoes and is exported all over the world for its rich taste, aroma and quality. This pulp tastes exactly like fresh mangoes and nothing else. It can be used to bake cakes, make milkshakes, mango juices, mocktails or just eaten as Aamras.

It contains 100% Natural Ratnagiri mango fruit content.

Also Known As: Aam ras, Mango shavings, hapus, apooz, hafooz, aphooz, alfanso, alphanso mavina rasa, mango squash, mango extracts, mango ras, amba pulp

Storage Information: After opening the tin, transfer the contents in glass or stainless steel container and refrigerate. Please store the packed tin in Cool, Dry and Hygienic condition.
Preservative Disclaimer: Contains no added preservative, and no additives.
Taste Profile: Sweet Pulp

Recipes/Ways to Use:
Mango Kalakand - Recipe:
Desai Bandhu's Mango pulp – ½ cup
Paneer – 1 cup
Almonds – 4
Pistachio – 8
Green cardamom – 4

Directions:
Thinly slice almonds and pistachios and make powder of cardamom.
Crumble the paneer with hand.
Take a pan, add mango pulp and sugar.
Cook it until the sugar melts and mango pulp becomes thick.
Add paneer in the cooked mango pulp and stir continuously until it becomes thick.
Add almond and pistachios in the mixture as well.
Cook until it gets thick consistency.
Turn off the gas and add cardamom powder in the mixture.
Grease plate with ghee and pour the kalakand mixture evenly with ¾ inch thickness in square shape.
It takes 2-3 hours to freeze the kalakand.
Once it freezes, cut it in to any shape or size as per your desire.
Mango kalakand is ready.
View full details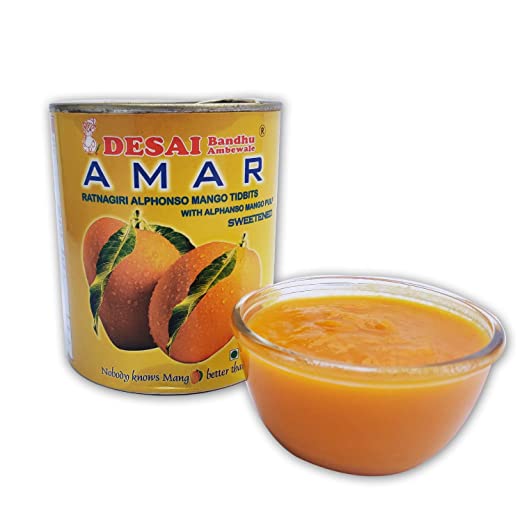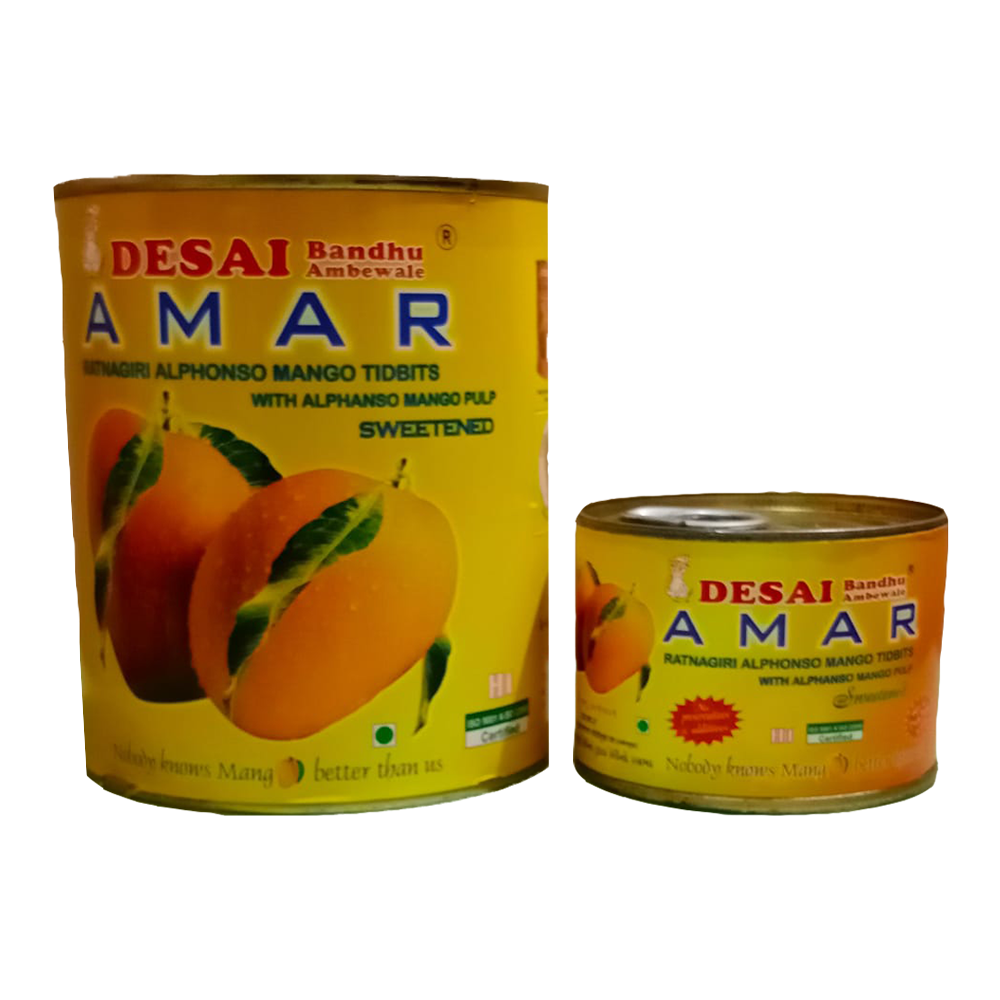 More about Desai Bandhu Ambewale Mango Pulp
What are the ingredients of Desai Bandhu Ambewale Mango Pulp

Alphonso Mangoes and Sugar Syrup (Below 5%)
Where is Desai Bandhu Ambewale Mango Pulp from?

Desai Bandhu Ambewale Mango Pulp is from the state of Maharashtra.
What is story of Desai Bandhu Ambewale Mango Pulp? Why is the brand so famous?

Since: 1932
Located: Pune, Maharashtra

Desai Bandhu Ambewale is India's first and only brand for Alphonso Mangoes and its allied mango products. Their story dates back to around 90 years. It was in 1932 when Raghunath Vasudeo Desai – the founder of Desai Bandhu Ambewale – started getting pure Alphonso mangoes from the Kokan to sell in Pune – a city in Maharashtra. He was a visionary who correctly judged the growing need for mangoes of the people staying on the plateau. There was a gap that had to be bridged. People on the plateau needed pure mangoes from Kokan and Raghunath Desai thoughtfully took up to bridge this gap.

Today, Desai Bandhu has become a synonym for pure mangoes. Be it just mangoes or mango products such as Mango Pulp, Amba Vadi, Amrakhand, Desai Bandhu Ambewale is the name any mango lover thinks of!
Desai mango pulp
The mango pulp was awesome
Fabulous mouthwatering amla
Awesome quality product and a must for everyone to relish
absolutely fabulous
Its out of this world. Can you get me one more tin
More about The State Plate
What does The State Plate do?

The State Plate delivers famous food products and brands from different states of India. You can buy snacks, spices, pickles & chutneys, staples, mouth fresheners from famous brands of India. You can get Maharashtra food, Gujarat food, West Bengal food, Karnataka food, Andhra Pradesh food, Madhya Pradesh food, Rajasthan food, Tamil Nadu food and Orissa food at your doorstep. We work directly with manufacturers to get you the authentic and delicious taste of India. The State Plate delivers within India and also delivers products like Desai Bandhu Ambewale Mango Pulp internationally.
Which famous brands can you buy on The State Plate online?

The State Plate has over 50 legendary brands to buy online from from 7 states of India. You can shop famous Maharashtra brands like Chitale Bandhu Bakarwadi and other snacks, Laxminarayan Chiwda, Hindustan Pista Badam Biscuits, Kalyan Bhel, Desai Bandhu Ambewale, Budhani Brothers; famous Bengal brands like Mukharochak snacks, Jharna Ghee, JK Spices, Sunrise Spices, Satyendra Chana Sattu, Deer Moghlai Attar, Druk Kasundi, Chakresh Supari; famous Gujarat brands like Jain Vijay, Jagdish Farshan, Diamond Peanuts, Jalaram Patra; famous Indore brands like Gangwal; famous South Indian brands like Grand Sweets & Savouries, Ambika Appalam, A1 Chips and more!

You can also buy aromatic Gobindobhog rice, Solapur Shenghdana Chutney, Kolkata style Chowmein, Thanda Meetha Paan, Paan Candy, Kokum Syrup at best prices at The State Plate online
How can you buy Maharashtra's Desai Bandhu Ambewale Mango Pulp online?

You can buy Desai Bandhu Ambewale Mango Pulp online at The State Plate at best prices online. The State Plate offers all online payment methods and delivers to 26000+ pincodes in India.
Why shop from The State Plate?

The State Plate brings the flavours of India on your plate. TSP offers the most delicious and authentic food products from different states of India. We have a wide collection of products and brands for you to choose from. Shopping with The State Plate has many benefits such as a great website and app to order from, free delivery available above certain amount, a very great customer support team and delivery to 26000+ pincodes in India. The Slate Plate also delivers to all international addresses. All our products are checked before they are shipped for quality and packaging. Shop now and taste the flavours of India on your plate.